Start your day with Green Tea!
Trade your normal cup-of-Joe in for a Cuppa green tea. You won't sacrifice your boost, and get the benefits! Green tea is well known for antioxidants, but did you know it has been linked to a lot of health benefits? Lower risk of some cancers, diabetes, heart disease, inflammatory bowel disease, according to the University of Maryland Medical Center.
Lunch
Basil is not only delicious it is a good source of vitamin K and iron; fresh basil leaves also boast anti-inflammatory and antibacterial properties. A little goes a long way with this delicious sauce and it is good on basically everything.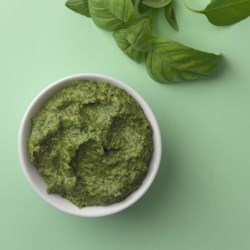 Basic Basil Pesto
EatingWell Test Kitchen
"Simplicity reigns in this traditional sauce—just basil, garlic, cheese and olive oil. Our one modification? We like omega-3-laden walnuts in the mix for their crunch and delicate flavor, but pine nuts, almonds, pecans or even pistachios may be substituted for the walnuts."
Ingredients
2 cups packed fresh basil leaves, (2-3 bunches)
¼ cup walnut pieces, toasted (see Tip)
¼ cup grated Parmigiano-Reggiano cheese
3 tablespoons extra-virgin olive oil
2 tablespoons water
1 large clove garlic, quartered
½ teaspoon salt
½ teaspoon freshly ground pepper
Directions
1Place basil, walnuts, Parmigiano-Reggiano, oil, water, garlic, salt and pepper in a food processor; pulse a few times, then process until fairly smooth, or to the desired consistency, scraping down the sides occasionally.
Tip: To toast walnuts: Spread on a baking sheet and bake at 350°F, stirring occasionally, until fragrant and lightly browned, 7 to 9 minutes.
Snack
Delicious Edamame – I really like it with sea salt and hot red pepper flakes… and if you are basically a grown up child like me – they are fun to eat! Soybeans are a complete plant-based protein, so edamame is a good protein source. Watching your cholesterol? This is a muuuch better option than what most of us reach for in the afternoons. You can get them in bags you can just pop in the microwave, Super easy. But, don't forget, be careful and check your labels, and season it yourself.
Other great options are: green apple, cucumber slices, pistachios, celery, avocado, pears, kiwi
Dinner Time!
Sauteed Greens with Cannellini Beans and Garlic
A great side, but also a nice vegetarian dinner when made with vegetable broth and served over rice.
INGREDIENTS
5 tablespoons extra-virgin olive oil, divided
3 garlic cloves, thinly sliced
1/4 teaspoon dried crushed red pepper
1 large bunch greens (such as spinach, mustard greens, kale, or broccoli rabe; about 1 pound), thick stems removed, spinach left whole, other greens cut into 1-inch strips (about 10 cups packed)
1 cup (or more) vegetable broth or low-salt chicken broth
1 15-ounce can cannellini (white kidney beans), rinsed, drained
1 teaspoon (or more) Sherry wine vinegar
PREPARATION
Heat 4 tablespoons oil in large nonstick skillet over medium heat. Add garlic and dried crushed pepper; stir until garlic is pale golden, about 1 minute. Add greens by large handfuls; stir just until beginning to wilt before adding more, tossing with tongs to coat with oil.
Add 1 cup broth, cover, and simmer until greens are just tender, adding more broth by tablespoonfuls if dry, 1 to 10 minutes, depending on type of greens. Add beans; simmer uncovered until beans are heated through and liquid is almost absorbed, about 2 minutes. Stir in 1 teaspoon vinegar. Season with salt and pepper, and more vinegar if desired; drizzle with remaining 1 tablespoon oil and serve.
Per serving: 269 calories, 18g fat (3g saturated), 0mg cholesterol, 111mg sodium, 21g carbohydrates, 6g fiber, 10g proteinMOLLY STEVENSBON APPÉTIT APRIL 2008
Happy St. Patrick's Day everyone! Celebrate with eating a super healthy menu of green-on-green-on green today, if it is supposed to be that color. 🙂
Writers Note: I Wrote this while fasting for a blood draw… cruel and unusual punishment if you ask me. I'm SO hungry now! 🙂 Megan Johnson